Wednesday, April 29, 2020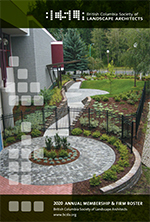 The BCSLA is proud to work with Naylor (Canada) Inc. to publish the  Annual BCSLA Membership & Firm Roster. The Annual is a terrific resource that lists BCSLA Members, Associates, and Affiliates by name and firm. More than 1,900 copies are circulated free of charge to BCSLA Members, affiliated businesses, industry and governmental agencies. The BCSLA Annual Membership & Firm Roster is released every May so watch your mailboxes.  Click here for the 2020 digital version.   Thanks to David Rose, MBCSLA, for his hard work on this project!
This year we are proud to feature the Knowledge Garden in Prince George, BC on the cover.  Courtesy of Lazzarin Svisdahl Landscape Architects.